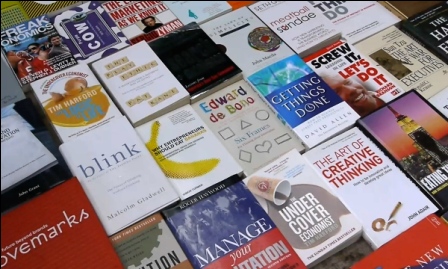 A suite of sessions with infinite permutations.  Choose any combination from over 300 books, or consider grouped themes. Absolutely brilliant for generating new ideas, as proven by RBS, Top Man, T-Mobile, Orange, Saatchi & Saatchi, M&C Saatchi, Heineken, Direct Line, Engine Group, JWT, and many more.


1. THE BIG THEMES
Antifragile, Chaotics, Eating the Big Fish, Hot Flat and Crowded, Outliers, The Black Swan, The Long Tail, The Pirate Inside
2. 16 FROM 16: THE BEST OF 2016
Leadership BS, #Now, Scrum, Smarter Faster Better, Superforecasting, Talkability, The Culture Map, The Ideal Team Player, The Organized Mind, The Stupidity Paradox, The Yes Book, Why Should Anyone Work Here?
3. BUSINESS & MARKETING STRATEGY
Drinking From The Fire Hose, Great By Choice, Loose, Made To Stick, Screw Business As Usual, Tell The Truth, The Decision Book, The Ultimate Question
4. BRANDS AND BRANDING
Brand Manners, Culturematic, Decoded, Predicting Market Success, The Brand Innovation Manifesto, The Philosophy of Branding, Zag
5. CONSUMER BEHAVIOUR
Affluenza, Blink, Brandwashed, Consumer.ology, Decisive, Herd, Switch, The Decisive Moment, The Tipping Point, The Wisdom Of Crowds, Why We Buy
6. CREATIVITY & INNOVATION
Contagious, Flicking your Creative Switch, Imagine, Inside The Box, Little Bets, Making Ideas Happen, Predatory Thinking, The Art Of Creative Thinking, Where Good Ideas Come From
7. ORGANISATION (PERSONAL/COMPANY)
Drive, Execution, Getting Things Done, Rework, Simply Brilliant, The Art of Action, The Character of a Corporation, The Procrastination Equation
8. BEHAVIOURAL ECONOMICS
Discover Your Inner Economist, Emotionomics, I'll Have What She's Having, The Upside of Irrationality, Nudge, The Undercover Economist, Thinking Fast and Slow
9. LEADERSHIP
Clever, How To Lead, Quiet, Screw it, let's do it, Selected, Start With Why, The Language Of Leaders, Why Should Anyone Be Led By You?
10. THE CLASSICS
Built To Last, Good To Great, In Search of Excellence, The Halo Effect
11. THE ONLINE WORLD
Cognitive Surplus, Digital Vertigo, Free, Grouped, Here Comes Everybody, Makers, The Filter Bubble, Velocity, We-Think, What Technology Wants, Wikinomics