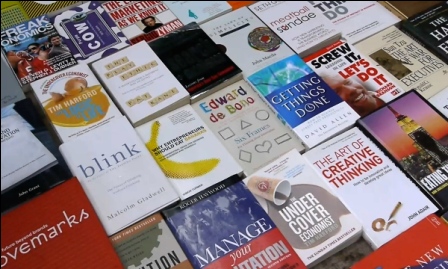 A suite of sessions with infinite permutations.
Choose any combination from over 400 books, or consider grouped themes. Absolutely brilliant for generating new ideas, as proven by Carat, Havas, RBS, Top Man, T-Mobile, Orange, Saatchi & Saatchi, M&C Saatchi, Heineken, Direct Line, Engine Group, JWT, and many more.
Popular themes are below, but any blend is possible.
1. THE BIG THEMES
Company strategy, boardroom concepts, academic thinking.
2. 19 FROM 19: THE BEST OF 2019
The best books form the last year to keep right up to date.
3. BUSINESS & MARKETING STRATEGY
Strategy writing from all over – sales, customer, brand, innovation, and more.
4. BRANDS AND BRANDING
Specifically brands and branding, for communications agencies and marketing personnel.
5. CONSUMER BEHAVIOUR
A deep dive into why people do what they do.
6. CREATIVITY & INNOVATION
How does it work? How do you generate good ideas?
7. ORGANISATION (PERSONAL/COMPANY)
How to organise yourself, your department , or the whole company.
8. BEHAVIOURAL ECONOMICS
A crash course in the whole topic.
9. LEADERSHIP
All the best thinking on how to do it.
10. THE CLASSICS
Timeless business advice, regardless of publication date.
11. THE ONLINE WORLD
All digital and online matters covered.