The one sentence summary
Companies can capture hearts and minds through the power of purpose.
WHAT THE BOOK SAYS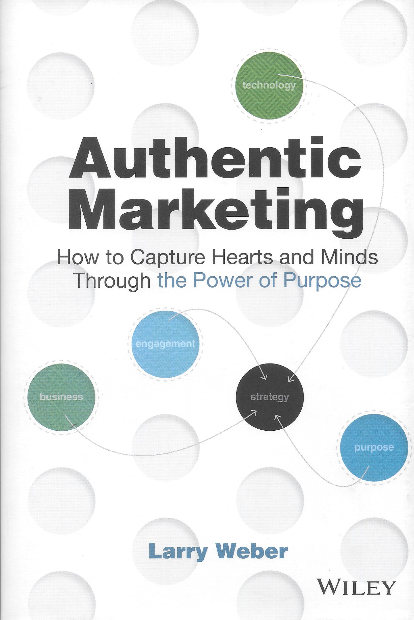 To achieve long-term value and capture true stakeholder engagement, companies must now embrace a higher purpose – something intrinsic in their DNA that addresses a pressing social issue such as climate change, world hunger or improving education or healthcare.
Companies have been through several eras: production (1860-1920), sales (1920-40s), marketing (till the mid-90s), relationship marketing (to the 2000s), digital engagement, and now is the time for authentic marketing.
Authentic marketing is a natural by-product of operating with higher purpose, as companies share compelling narratives about their work and purpose that appeal to the values of their customers.
There is a four-part method:
1. Explore values: does your company have a founding or core value?
2. Pay products and services forward: who in the world would most benefit and can we set up a programme for them?
3. Feed your audiences' passions: what do they care deeply about?
4. Take a stand: what harm do we cause and how could we change that?
A new, integrated strategy model brings together business, technology, and engagement strategy – putting moral purpose at the centre of everything.
Moral purpose is when a company works to address world issues.
Moral code is a pledge to operate responsibly to minimize harm to the planet.
A social purpose native company begins with one at the centre of everything it does. Social purpose immigrants (those that don't) can definitely infuse it later.
All of this is very commercially powerful. Consumers will pay more for products from socially responsible companies. Employee engagement is higher. Operational efficiencies can save up to 45% in costs. And capital markets tend to reward socially active firms.
The CEO should be the lead voice of the business strategy and moral purpose, acting as Chief Values Officer. They should use plain language and avoid corporate speak.
Move from storytelling to storydoing – show what your company is actually doing, then explain it…regularly. Data-telling is also important – show the data that verify you are making progress.
WHAT'S GOOD ABOUT IT
A purposeful moral path is analogous to Aristotle's eudaimonia, a Greek word meaning the state of having a good in-dwelling spirit. That means doing the right thing at the right time in the right way. We're really only as good as the good we do.
Consumers believe 16% of what companies tell them, and 52% of what an employee says about a company.
94% of consumers are likely to be loyal to a brand that offers complete transparency. But 70% of them will not even give even the most reputable companies the benefit of the doubt if something suspicious crops up.
Millennials are a vital audience:

76% consider a company's social and environmental commitments when deciding to work there

64% won't take a job if a potential employer doesn't have strong CSR practices

68% want to be known for making a positive difference in the world

78% want the values of their employer to match their own

85% would stay longer with an employer with a high level of social responsibility

83% would be more loyal to a company that helps them contribute to social and environmental issues.
WHAT YOU HAVE TO WATCH
The examples of companies doing good things is quite restricted, so they keep cropping up in every section. This may suggest that currently there are simply not enough of them to reference.