It's a blog. It's a training programme with infinite permutations. It's a pair of books. It's a series of podcasts. It's a pair of iphone and ipad apps. It's probably the largest resource of its kind in the world. It's over 100 books summarised on one page each. And even reduced to one sentence. It's a masterclass in modern business ideas.
PRAISE FOR GREATEST HITS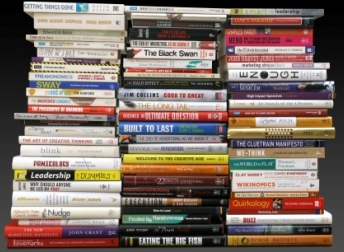 "Author, Kevin Duncan, has a winning way with words, making both volumes not only informative but also highly entertaining. 9/10." BA Business Life – October 2010
"Duncan has read the important business books so you don't have to."
"Kevin's new book is the latest entry in the ever-growing literary black hole that is 'ideas I wish I'd had'."
"Solves a basic problem of modern business life."
"With people working so much these days, they often have little time to keep up with the most important business literature. Kevin Duncan's new book provides a brief solution to this problem." Irish Times, 25/9/10
"Marketing's first ever iPhone apps."
"Duncan has done a neat job of filleting ideas to the bone."
"A selection of current buzz thoughts that every marketer should probably at least recognize."
"These little books and their app versions save buying and reading books…whose contents rarely merit the length, or price."
Market Leader magazine, Quarter 1, 2011
"simple…and simply brilliant. Five stars.
A brilliant resource to have at your fingertips when you've got a knotty problem to solve or just ten minutes to while away…A great commuting tool too, to make the best use of those minutes when you'd rather be elsewhere."
John V. Willshire, Head of Innovation, PHD Media
Foyles Business Highlight of the Month December 2010