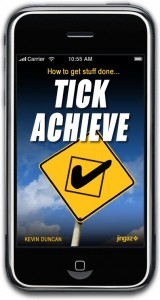 I am delighted to announce the launch of an app based on my book Tick Achieve: How to get stuff done. It has stacks of information and reminders to help you have a better time of it, and a specific section for businesses.
It's out now for the introductory price of £1.79, and works on iphone, ipad and itouch.
Click the link to have a look, and buy:
It would also help enormously if you wrote a quick review or gave it a decent star rating, but that's your call.